User Permissions
ESM Storeroom allows requesters to order internal goods from your centralized marketplace. System Administrators can assign catalog visibility for the Shop Page as well as facilitate bulk imports of Storeroom catalog items. System Administrators can also assign Catalog Maintenance, among other Storeroom permissions described below to Storeroom Managers to maintain Storeroom Catalogs and manually adjust item content.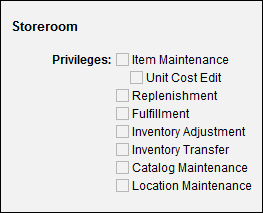 Item Maintenance allows users to manage item details for Storeroom catalog content.
Unit Cost Edit allows for the ability to update the Supplier's Unit Cost under Price/Cost Details.
Replenishment allows Storeroom Managers to add to On-Hand Qty for items by reordering from suppliers.
Fulfillment allows Storeroom Managers to process Storeroom catalog orders.
Inventory Adjustment allows Storeroom Managers to add to On-Hand Qty manually.
*Inventory Transfer allows Storeroom Managers to move items between Storeroom Locations.
NOTE – Not Yet Available
Catalog Maintenance allows Storeroom Manager to add and maintain Storeroom catalog details
Location Maintenance allows Storeroom Managers to create and assign storeroom locations to preexisting Ship-To Locations within Purchase. These Locations are defined as Storeroom inventory storage locations and can be typically be defined by Room or Aisle #. The system can also allow for storage locations down to the Bin or Shelf, if applicable.
Catalog Maintenance
Storeroom Catalogs can be searched for or modified under Catalog Maintenance. Before items can be added to or imported against a catalog, a Storeroom Catalog must be created under Catalog Maintenance – New Catalog.

The Catalog Name must be unique and required fields must be completed before you save the catalog.

Catalog Name is the name that will be visible on the Shop Page for requesters. The Catalog Name must be unique.
Start Date is the date that item content will be available for the Shop Page.
Expiration Date automatically removes the catalog from the Shop Page on the date listed.
Order Delivery Email is the email address for the recipient of email notifications when orders are released for Fulfillment.
Catalog Image is the image assigned to the catalog and appears on the Shop Page to represent the catalog. The image must be formatted as a JPG/JPEG with the maximum dimensions of 120 x 60 Pixels.
Notes is the Internal Note for Storeroom Managers detailing more information about the catalog.
Supplier Assignment allows Storeroom Managers to pick from pre-created customer shell suppliers, to which the catalog is loaded against. Supplier is created by ESM Professional Services at time of implementation.
Once the catalog has been successfully created by those assigned Catalog Maintenance privileges, it will be available in Add/Edit Catalog for the entity to assign to users following the standard catalog assignment process. Please refer to the System Administrator ESM Purchase Reference Guide for more information regarding Shop Page Configuration.
Location Maintenance
Storeroom Managers create Storeroom Locations from existing Ship To Locations created under Admin – Select Function – General Settings – Add/Edit Locations. Storeroom Locations can be searched for or modified under Location Maintenance.

New Storeroom Locations are created under Storeroom – Location Maintenance – New Storeroom Location.

Location can only be selected from existing Ship to Locations in Purchase.
Storeroom Location Code is the unique identifying alphanumeric code for item storage areas. Location Codes do not get transmitted to financial systems for integrated Storeroom Customers.
*Storeroom Location Name is the unique identifying label for item storage areas.
NOTE - Location Code and Name are based on customer specific naming methodology.