Users with the Change Order permission can send updates to orders that were already submitted to the supplier if the supplier has provided a Change Order Email that has been verified by the System Administrator. Change Order information is also available in theReporter to create customized reports.
Configuring Change Order (System Administrator)
The System Administrator can assign Change Order permissions based on User Specific or Entity Wide, which determine which orders the user can locate in search results.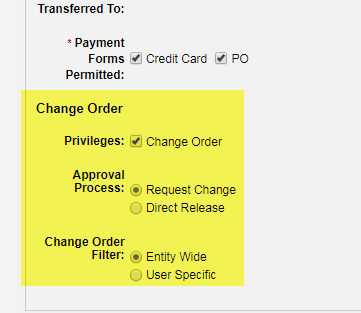 The types of Change Order edits are configured by the System Administrator in accordance to the financial system and business practices of the organization.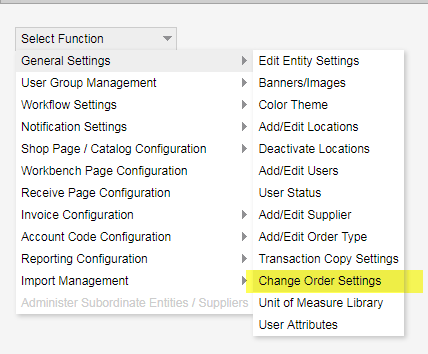 Change Order edits will send updates to the integrated financial system and/or the supplier based on the updated information.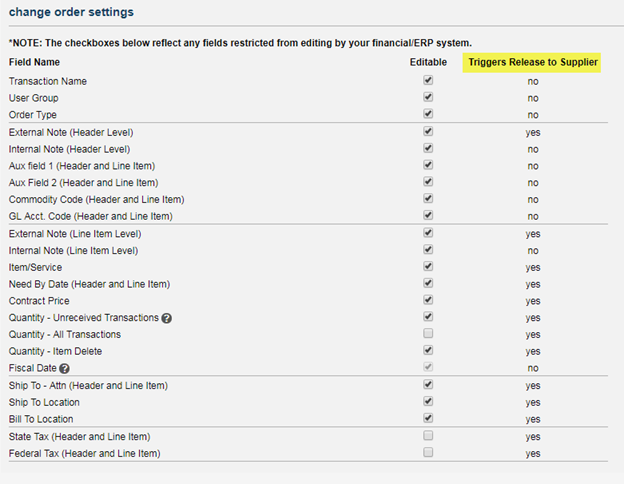 Creating a Change Order
Select a transaction from the All Transactions screen that has been submitted to the supplier. Users can enter a PO or Transaction Number in the Search bar to locate orders that were not submitted by them if Entity Wide permissions were granted.

The Change Order option will appear as an action button at the bottom of the order. Select Change Order. A pop-up window will prompt confirmation of Change Order creation.

The order will be in an edit mode to allow the changes based on the entity's configuration. Select Continue to confirm edits made to each section.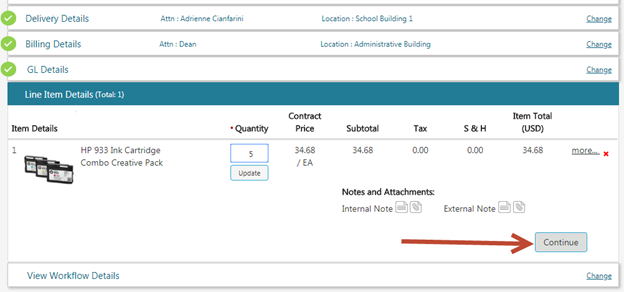 After all edits are made, select Prepare CC or Release PO at the bottom of the order.

If the Change Order did not require the supplier to be informed, the user will see the following pop-up.

If the Change Order does require the supplier to be informed, the user will be brought to an order review page to enter the credit card information/release PO. The Previous and New Values will be indicated to allow the Supplier to process the Change Order Request. Select Place Order to submit the Change Order. The user will be returned to the All Transactions screen.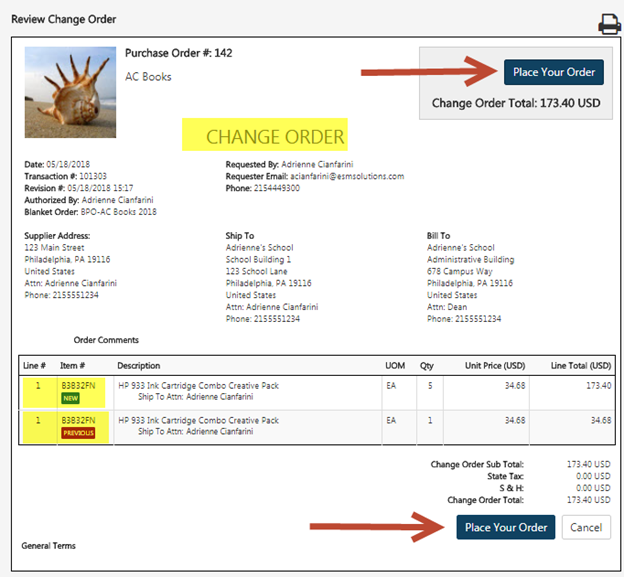 View Change Order History
Users can view Change Order History by selecting the order from All Transactions and clicking on the View icon.

A pop-up window will appear with hyper links of each version of the Change order(s) along with the time the order was submitted and the user that submitted the Change Order. Select the hyperlink to view a copy of the order.